My youngest daughter has her birthday today.
Happy Birthday Marjorie!
To celebrate, I baked a cake. Sorry it didn't quite turn out the way I wanted it to.
I also didn't get the kitchen cleaned up as well as I liked.
I'm going to say sorry for the second puzzle being a little dark in places. One of the light bulbs burned out and I haven't had a chance to pack up the mule and go into town to buy a new one.
Seriously, the first puzzle is of a birthday cake, and the second is of an old rural Mexican kitchen.
Enjoy!

Heart Shaped Birthday Cake
Beginner
Easy
Medium
Hard
Tough
Old Rural Mexican Kitchen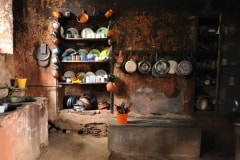 Beginner
Easy
Medium
Hard
Tough
If you like the free jigsaw puzzles, please buy me a cup of coffee. Thank you!